Time flys when your having fun!!!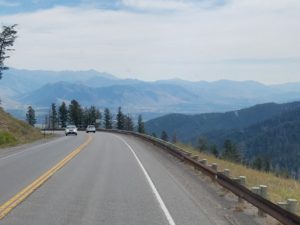 Well first I must apologize for being 3 weeks overdue on our blog.  I can partially blame little internet connectivity but in truth we just have been crazy busy the last three weeks.  My last post we were on a maintenance day in Island Park, Idaho getting ready to move down to Grand Teton National Park.  Due to the large Berry Fire burning in the northern park of Grand Teton we were detoured over to Jackson Hole via Hwy 20 in Idaho down thru Driggs and up and over the Teton Pass.  That pass was our first steep pass we had to cross and the Disco handled it great! Once down in Jackson Hole we found our way to the Gros Ventre Campground within the National Park and grabbed a great spot to spend the next two days while we explored the Teton Area.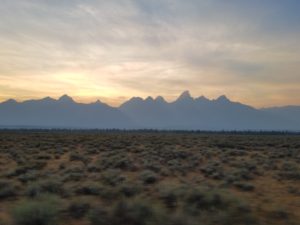 First let me say I think I have may found one of my favorite places on Earth. The Tetons area so majestic as they rise over 6000ft above the valley floor.  Never have I seen such tall jagged mountains so close up. Truly amazing!  The smokey haze in the air made the sunsets spectacular while we were there as a backdrop behind the mountain range.  On Sunday we ventured outside the park and truck hiked over 40 miles on dirt in the Gros Ventre Wilderness Area in the National Forest.  We drove to the top of Gunsight Pass and our views were amazing despite the smoke.  On our return down the mountain the Tetons were finally out of the smoke and again looking spectacular.  Although our time in Grand Teton National Park was short (2 days) we had plenty of time to see most of the park.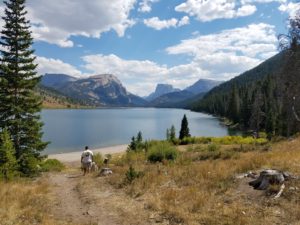 On Monday we left Jackson Hole and headed South towards Pinedale, Wyoming where we stayed at a Boondockers Welcome host's home. Boondockers Welcome is a service we belong to where we can stay in other members driveways or properties for free.  Its a great alternative to always being in a campground or RV Park.  Our host Jack was awesome and suggested some great activities in the Pinedale area.  We ended up staying 2 nights here and drive up the Skyline Drive to see the Lost River Mountain Range up close and personal and then the next day we drove up to the Green River Lakes which are the headwaters of the Colorado River.  Such a beautiful part of Wyoming.  I would have never guessed.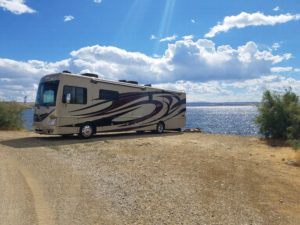 Next we moseyed down the road to Rock Springs and jumped on I-80 for a few miles before we turned South in Green River, WY towards the Flaming Gorge National Recreation Area.  The area is a HUGE reservoir that is also apart of the Green River (Colorado River Headwaters).  We found a nice boondocking location right on the water that was totally free. (FR 8 just South of the Buckboard Marina and Campground).  It was a little rough getting in with the motorhome but we just took it slow and made it in with no problems.  While here we explored the area and drove the entire look around the reservoir.  We also drove a road called the Sheep Creek Geological Loop and we highly recommend this drive.  The Unita Mountains were amazing in this area.  We loved camping here however after 2 nights of very high winds we decided to leave and head down the road.  This was risky considering it was Saturday of a Labor Day Weekend but it all worked out.  We ended up down the road about a 100 miles at Dinosaur National Park.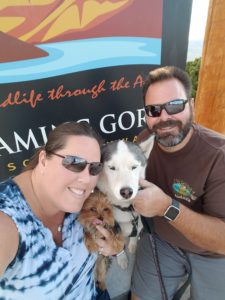 So from this point we have been on the road for 2 weeks and have driven a total of 979 miles in the Disco. We have spent $357.01 total in diesel fuel for the motorhome and paid $250.26 in camping fees averaging $18 a day.  We have visited 2 National Parks and 1 National Recreation Area.  We couldn't ask for a better start of a trip than this and we cant wait to see what is ahead.
I realize I have only updated one of three weeks still missing but don't worry they are coming… I just need to spread out the love a little and give my fingers a little typing break.  As a reminder to stay more current on our travels please like us on Facebook or follow us on Instagram.
Until next time… a hui hou. Aloha!
Gary, Stacey, Spirit and Sofi