Navigators Log Tuesday, August 23rd, 2016 – Friday, August, 26th, 2016
Yellowstone National Park
Well once again I want to apologize for all the bad language from the other day. But boy was that a day to remember. Luckily things have gone much smoother the last couple of days so much so that luck has really been on our side. I will quickly recap what we have been doing, and its pretty simple, we've driven… A LOT!!!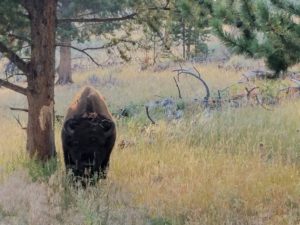 On Tuesday we decided to retrace our steps and slow down for everything that went by at a blur when we were racing to get home on Monday evening. When we finally reached the Roosevelt/Tower area to begin our slow paced tour it was nearing 3pm so we stopped at the lone petrified tree and had lunch. This gave both dogs time to stretch their legs as we had already been in the truck for hours getting back to this point in the park. After lunch we headed south on the Grand Loop towards Canyon Village. Wildlife was not as prevalent today as it was yesterday but we still did see a bison or two hanging out by the road. We did stop at Tower Falls and grab ourselves a rather large scoop of ice cream at the visitor's center just because you can never pass on some ice cream after we walked down to the falls overlook.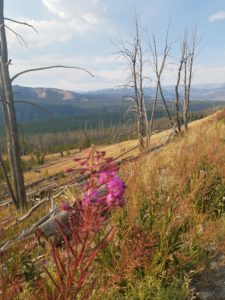 The views overlooking the Yellowstone River Valley were magnificent as we climbed our way up Dunraven Pass. When we reached Chittenden Road we veered off the pavement and worked our way up Mount Washburn to the highest point allowed by vehicle. The views were spectacular even though the air was thick as pea soup with smoke. There is currently 5 fires burning in the park and there is no escape from all the smoke. After taking in the views we headed down the southside of Dunraven Pass which brought us into the Canyon Village area also known as the Grand Canyon of Yellowstone.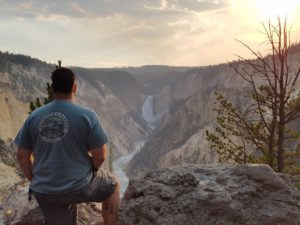 The Village area here is massive with a huge lodge, shopping area, educational center and a large campground. After driving around the Village area we decided to drive the North Rim of the canyon. Here we found spectacular views of the Upper and Lower Falls and we now grasp why Yellowstone got its namesake. After touring the one-way North Rim Road we worked our way back to the South Rim and Artists Point. The view from here was almost magical. I wouldn't believe it was a true natural backdrop unless I was there. I took an amazing photo of Gary starring at the massive waterfall up the canyon in his regular "I have lost him to the water" shot. One of my favorites to date.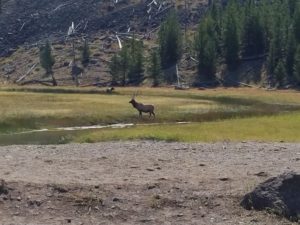 It was getting late so we decided to head back towards home. Along the way we viewed a massive Roosevelt Bull Elk grazing off in the distance. His antlers were the largest I had ever seen. Once again as we neared the park entrance the ridge was still on fire but not seeming to affect traffic flow at all. The long 25 mile drive home once out of the park was non eventful as little Bambi must had told everyone to stay away from that Black Truck from Washington.
On Wednesday the 24th we finally got to turn South at Madison Junction to see the lower half of Yellowstone. We decided to drive past all the Geyser Basins to work our way down to Yellowstone Lake and the Lake Village area and then slowly visit turnouts and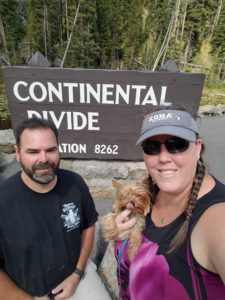 attractions on our way home. We did however stop at Craig Pass which is on the Continental Divide for a great photo op.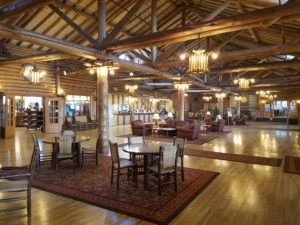 Once in the Lake Village area the weather made a drastic change and the temperatures dropped as a cold front moved in with big thunderstorm clouds, rain and hail. We decided to stop and have lunch at the Lake Lodge cafeteria style.   After lunch we headed over to the Fishing Bridge Visitor Center to learn more about the area and also check out Yellowstone's lone RV Park. From here we turned back around and worked our way back West. In the West Thumb area we stopped and looked at the West Thumb Geyser Basin where many thermal features are right along the lake and some even in it. It was all very fascinating but the weather forced us to make it a quick visit.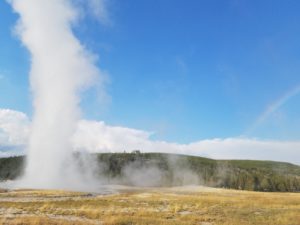 Once again we found ourselves in the car headed back towards the Old Faithful area. It never fails but as soon as we pulled up and parked she blew. So that meant we had approximately another 90 minutes to kill until the next eruption. So we took this time to walk around Geyser Hill. While on our hike Grand Geyser went off and we could see it from the distance (it's the tallest predictable geyser in the world) after Grand erupted we got to watch Sawmill Geyser go off right in front of for a good 10 mins. We continued our way around the boardwalk and arrived back at the viewing platforms of Old Faithful and found our spot. We only had to wait about 30 minutes before it erupted in faithful style.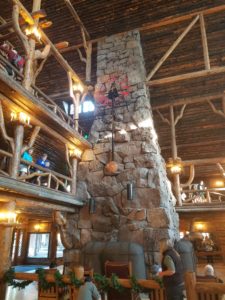 We got a nice shower from Old Faithful as well as the wind blew its water directly our way. After the show we decided to go have dinner and drinks at the Old Faithful Inn. The old Inn is magnificent and I highly recommend going inside and visiting the building when in the Old Faithful area.
It was now 8pm and we decided to head back to camp as we were both beat. As we approached Firehole Lake Drive we decided to take one last detour off the main road to see what this side road had to offer. We came across several geysers that were very close to the road and in the middle of the drive we came across a parking lot with quite a few people there. Many folks had blankets out with lawn chairs and cameras setup so we knew something good must be close to happening. We once again climbed out of the truck and headed over to the crowds to see what was up.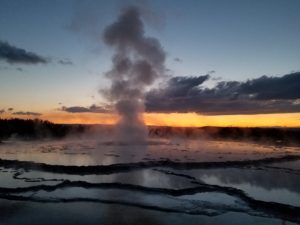 Turned out the Great Fountain Geyser was 4 hours overdue to erupt and with the pool filling it was going to be anytime now before she blew. We decided to wait it out and see the show and oh boy what a show we had. She blew close to 200 feet in the air for over 60 minutes. And to top that all off the sun was setting directly behind the geyser so it made it look like the sky was on fire behind the water. It was a perfect end to another great day in Yellowstone.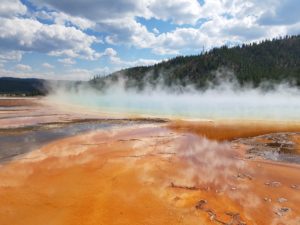 Thursday the 25th marked the 100th Birthday of the National Park Service and Yellowstone becoming the first National Park. We debated staying home but we only had a very small section of park left to visit and then we could call the Park conquered. So we set out for another days journey around noon and visited the Lower and Middle Basins. We toured everything we could and boy it was busy. Parking was a bear and usually took 20-30 minutes just to find a spot. We started at the Fountain Paint Pot in the Lower Basin and then worked our way up to the Grand Prismatic Springs in the Midway Basin and ended our day visiting the Biscuit Basin.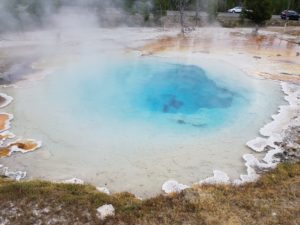 We did a lot of walking and easily hit my Fitbit challenge of 10000 steps every day. After calling our tour of Yellowstone complete we headed out of the park one last time and made our way back to camp in daylight, a first for all week. Once back in camp we enjoyed talking with our neighbors and then grilling up some steaks, potatoes and corn on the BBQ. Don't ask Sofi where part of my steak ended up… thief!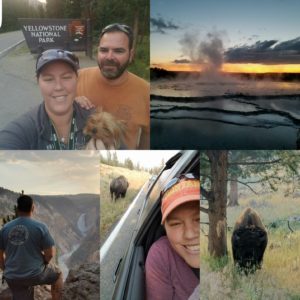 All in all I would rate Yellowstone a 5 star park.  Although smokey and very packed with tourists I would do it all over again.  Word of advice though pack your patience, bring food and snacks with you, and expect the unexpected.  In all we saw numerous bison, a good amount of Royal Elk, many blacktail deer, and a lone wolf.  No bear but honestly I think they are high up in the hills getting the last of the berries before they put themselves to sleep for a long winters nap.  Total mileage done on the truck in the past 4 days touring Yellowstone… 775 miles!!! Yes 775 mile. Now keep in mind base camp was 25 miles from the West Entrance so of that 775 miles, 200 of them alone was traveling to and from camp to the West Entrance each day.  We are looking forward to rest and relaxation and not so many truck hikes in the coming days. But in all our truck LOVED the past four days.  Our gas mileage has been phenomenal getting over 18+mpg, we attribute that to the high altitude, the 45 mile speed limits and well who knows why else but we will take it.  To see more of our Yellowstone Adventure please check out our Yellowstone Facebook Album or Like and Follow us on Facebook and Instagram.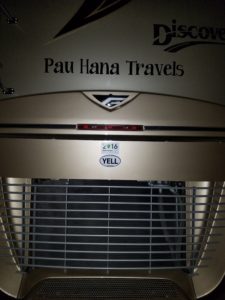 Today (Friday) we woke up at our leisure… lets just say it was past 10am. We spent the day doing chores and light duty maintenance on the motorhome. We figured it would be a nice change of pace to just stay near home before we fold in the slides, bring in the stairs and hit the road to our next destination.
As for our next destination… we again have no clue except it will be somewhere near Jackson, Wyoming. The Berry Fire in Grand Teton National Park still has Hwy 191 closed so it looks like we will have to take US 20 south thru Ashton and then Hwys 32 and 33 thru Driggs, ID to take Teton Pass into Jackson. We do have a Boondockers Welcome stay planned in Pinedale, WY this week and hope to be there either Monday or Tuesday, just depends on what we find in the Jackson/Grand Teton Area.  Its kind of crazy to think our next reservation is in Albuquerque, New Mexico on September 29th.  We are officially one week into this 12-week adventure and we couldn't be happier.
One National Park done with many more planned this Fall.  It will be fun to watch our bumper get filled up with NPS stickers.  We hope you will still follow us along the way. Until our next wifi spot… a hui hou.
Stacey & Gary and our fur babies Spirit and Sofi.
PauHanaTravels