[Our Alaska Blog]  [Maps & Places to Go]  [Places to Stay]  [Travel Tips & Resources]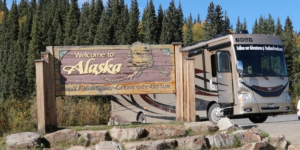 In all we spent 124 nights on our Alaskan adventure traveling to the land of the midnight sun.  Along the way we tracked every stop, every gas receipt, every campground fee and tour cost and plan to share all of this information for you within these pages.  RVing to Alaska isn't as hard or expensive as some folks may try to tell you. We hope the information we provide you will help in your planning process.
Please bare with us as we add our blog entries. It will be a long process and will try to remember as much detail as possible. Check back often for updates and subscribe to our mailing list if you want to be kept up to date with our progress. Again, thanks for all the kind words and support. Until next time… Pau Hana!
Day 1: Departure Day   (submitted Feb 1, 2018)