[Our Alaska Blog]  [Maps & Places to Go]  [Places to Stay]  [Travel Tips & Resources]
The best part of RVing to Alaska is … Canada!!!
Departure Day : May 15, 2017
On May 15th, 2017, day 1 of our trip, we crossed into Canada at the Kingman/Eastport border crossing in Northern Idaho. (We live in Eastern Washington 2 hours from the border, so we can give you a fairly good estimate of timing if you cross the Canadian border from any of the Western States.) We purposely chose a small border crossing to eliminate long lines and crabby customs agents.  Our crossing went smoothly and within 15 minutes we were let into Canada and we were off on our merry way.
When we first picked our route our plan was to cruise through Canada as fast as we could but we soon learned we needed to slow down. Canada was BEAUTIFUL and deserved our undivided attention. Alaska wasn't going anywhere and well we had no immediate reservations so why not.
Our first evening we stopped in Cranbrook, British Columbia were we used our favorite camping apps (Campendium.com, OvernightRVParking.com and FreeCampsites.net) to find some free overnight parking at the local Home Hardware Building Centre, a home improvement store similar to Lowes or Home Depot in the States.  We were greeted by friendly signs saying Overnight RV Parking Welcomed.  The parking lot was quiet once the local Walmart next door closed at 10pm and it was a peaceful sleep as we were the only RV in the lot.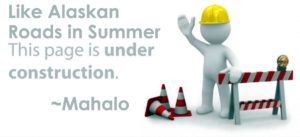 3,555 total views, 1 views today