[Our Alaska Blog]  [Maps & Places to Go]  [Places to Stay]  [Travel Tips & Resources]
FREE ALASKA RVING ROUTE PLANNING GUIDE
Rving to Alaska is such a big unknown for the first timer.  We tried to get all the maps and books we could before hand but it just seemed like information overload so we decided to just wing it.  That is our style anyway, just go with the flow. Now I know many can not plan this way and deciding to just wing it to Alaska was a gamble, but it was a gamble that paid off for us. You see we don't need full hookups as we have solar on the roof and have the boondocking thing pretty dialed in. But we still wanted to share with you our route that we took to give you an idea of distances between stops and how much it cost us when we did have to pay for parking.
Alaska wasn't as expensive as we thought it was going to be but then again we purposely didn't try to spend a lot. When you decide to go to Alaska you need to decide on how your going to make it for you. Is it a vacation? Or is it a normal traveling experience?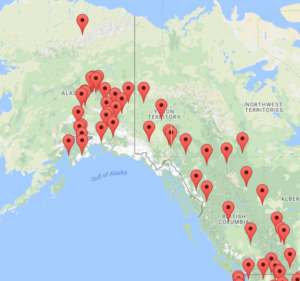 Next, the best thing about traveling to Alaska is Canada. Plan to spend some time in Canada. The scenery is breathtaking and the wildlife is everywhere. The people are kind and will gladly tell you about their local history. When we first left we thought we would breeze thru Canada but that quickly changed.  We ended up taking 3 weeks getting thru Canada on the Northern migration and I wouldn't have done it any slower. Once in Alaska we knew we had all summer to explore so we didn't try to hurry. In Tok you have 2 choices, go North towards Fairbanks or South towards Anchorage.  Depending which way you go it will start your great loop around the State.
Many folks have asked us to share our route so I built this "RVing to Alaska Route Planning Guide" to help those in the planning stages of making the journey North to the land of the midnight sun. This is a 1-page spreadsheet that lists every stop we made while on our Alaskan journey. It shows how much per night it cost to camp in the location listed, miles between point A and point B, as well as a website if there is one. I will be updating this list as I review some of the non-website locations on various camping apps. In return for this information I just ask you subscribe to our Pau Hana Ohana mailing list. I promise I wont inundate you with spam (I have only sent one newsletter since creating the mailing list back in August.) I will eventually be adding additional information regarding Alaska so check back often to the website and make sure if we do send out an email we don't end up in your spam, junk or promotions folder. Anyway… hope you enjoy this tidbit of information I have put together for you. As always safe travels and until next time… pau hana!