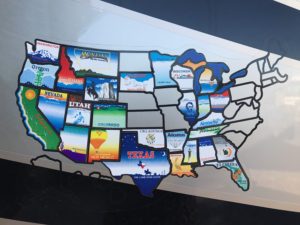 The following public, private campgrounds, RV parks, and boondocking/wild (free) camping locations have been visited by Pau Hana Travels since 2013 in the United States and Canada.  We will try and review each campground to the best of our ability and memory.  Please bear with us as we have quite a bit of backlogging and remembering to do to give you the most information on each site.  Please remember this is the personal opinion of Pau Hana Travels at the time of our visit. Places may have changed over the years or seasons. We will try to give as much detail as possible as to when we visited and what equipment we were in during our stay. We hope this will help you decide if its a place to call home for a night or 2. Reviewed campgrounds are highlighted in orange. Just click the link to read our review.
Pau Hana's Current and Past Camping Equipment:
(Current) 2016 Fleetwood Discovery 37R – 38ft Class A Diesel Pusher
(Past)  2016 Forest River Cardinal 3825FL – 42ft Forward Living 5th Wheel Trailer
(Past) 2014 Keystone Carbon 327 – 38ft Toyhauler 5th Wheel Trailer.
(Past) 2013 Keystone Cougar – 27ft Pull Behind Trailer.
ALABAMA
Gulf State Park, Gulf Shores, AL (Sept 2014 in the Carbon)
ALASKA (In order of our visit)
Downtown Chicken, Chicken, AK (June 2017) – FREE
Sourdough Campground, Tok, AK (June & Sept 2017)
Northern Lights Tesoro Gas Station, Tok, AK (June 2017) – FREE
Grestle River Wayside, Delta Junction, AK (June 2017) – FREE
Chena Lake Recreation Area, North Pole, AK (June 2017)
Walmart, Fairbanks, AK (June 2017) – FREE
Chena Hot Springs Resort & Campground, North Star Borough, AK (June 2017)
Elks Lodge, Fairbanks, AK (June 2017)
Galbraith Lake Campground, North Slope Borough, AK (June 2017) – FREE
Healy BLM Land, Healy, AK (July 2017) – FREE
Teklanika Campground, Denali National Park, AK (July 2017)
Susitna River Bridge Gravel Bar, Trappers Creek, AK (July 2017) – FREE
Elks Lodge, Eagle River, AK (July)
Cabelas, Anchorage, AK (July & August 2017) – FREE
Deep Creek State Recreation Area, Ninilichik, AK (August 2017)
Tenderfoot Creek Campground, Moose Pass (August 2017)
Valdez Glacier View Park, Valdez, AK (August 2017) – FREE
Copper River Campground, Chitna, AK (August 2017) – FREE
IGA Supermarket, Glenallen, AK (August 2017) – FREE
Isabel Pass BLM Land, Paxson, AK (September 2017) – FREE
Gakona RV Park, Gakona, AK (September 2017)
Nebesna Road MP 16, Wrangel-St. Elias National Park (September 2017) – FREE
ARIZONA
Cottonwood Campground, Canyon de Chelly, Chinle, AZ (Oct 2016)
Destiny RV Resort, Goodyear, AZ (Oct 2016)
Dome Rock Mountain BLM Land, Quartzsite, AZ (Jan 2017) – FREE
La Paz County Park, Parker, AZ (November 2016)
Little Grand Canyon Rd BLM Land, New River, AZ (January 2018) – FREE
North Ranch Escapees RV Park, Congress, AZ (Oct 2016)
Plomosa Road BLM Land, Quartzsite, AZ (January 2018) – FREE
Road Runner BLM Land, Quartzsite, AZ (December 2016) – FREE
Sedona BLM Land, FR 525, Sedona, AZ (Oct 2016) – FREE
Standard Wash BLM Land, Havasu City, AZ (Jan 2017) – FREE
Wells Fargo RV Park, Tombstone, AZ (Sept 2014 in the Carbon)
West World, Scottsdale, AZ (January 2018)
CALIFORNIA
American Girl Mine, Winterhaven, CA (January 2018) – FREE
Bear River Casino, Loleta, CA (Feb 2017) – FREE
Campland on the Bay, San Diego, CA (Sept 2014 in the Carbon & Dec 2016)
Chinook RV Resort, Klamath, CA (Sept 2014 in the Carbon)
Jawbone Canyon OHV BLM Land, Cantil, CA (Jan 2017) – FREE
Joshua Tree National Park South BLM Land, Indio, CA (December 2017) – FREE
Merced River Resort, Delhi, CA (Sept 2014 in the Carbon)
Ocotillo Wells State Vehicle Recreation Area, Salton City, CA (Dec 2016) – FREE
Palm Springs Thousand Trails, Palm Desert, CA (Nov/Dec 2016)
Ronald W. Caspers Wildreness Park, San Juan Capistrano, CA (Sept 2014 in the Carbon)
Rockhouse Trail Rd, Borrego Springs, CA (Dec 2016 & January 2018) – FREE
Russian River Thousand Trails, Cloverdale, CA (Feb 2017)
Springs at Borrego RV Resort and Golf Course, Borrego Springs, CA (Dec/Jan 2017)
Standish-Hickey State Recreation Area, Leggett, CA (Sept 2014 in the Carbon)
Table Mountain Casino, Friant, CA (December 2017) – FREE
Trona Pinnacles National Natural Landmark, Trona, CA (Nov 2016) – FREE
Yreka Walmart Supercenter, Yreka, CA (December 2017) – FREE
COLORADO
Black Canyon of the Gunnison National Park, Montrose, CO (Sept 2016)
Deweese Reservoir, WestCliffe, CO (June 2018) FREE with Colorado State Park Pass
KOA Fort Collins-Lakeside Holiday Resort (July 2018)
Redstone Campground, Redstone, CO (Sept 2016)
Shavano Wildlife Mgmt Area, Salida, CO (Sept 2016, July 2018) – FREE
Steamboat Springs KOA, Steamboat Springs, CO (Sept 2016)
Sunset Point Campground, Granby, CO (Sept 2016)
FLORIDA
Dr. Julian G Bruce Saint Gorge Island State Park, FL (Sept 2014 in the Carbon)
GEORGIA
Chattahoochee Bend State Park, Newnan, GA (Sept 2014 in the Carbon)
IDAHO
Buffalo Campground, Island Park, ID (August 2016)
Cottonwood Campground, Bruneau, ID (April 2016 in the Cardinal)
Craters of the Moon National Park Campground, Arco, ID (April 2016 in the Cardinal)
Hells Gate State Park, Lewiston, ID (April 2016 in the Cardinal)
Jerome/Twin Falls KOA, Jerome, ID (April 2016 in the Cardinal)
McCall RV Resort – McCall, ID (April 2016 in the Cardinal)
River's Fork Lodge & RV Park, North Fork, ID (April 2016 in the Cardinal)
KENTUCKY
Taylorsville Lake State Park, Mt Eden, KY (Aug 2014 in the Carbon)
Mammoth Cave National Park, KY (Aug 2014 in the Carbon)
LOUISIANA
Tickfaw State Park, Springfield, LA (Sept 2014 in the Carbon)
MINNESOTA
Myre-Big Island State Park, Albert Lea, MN (Aug 2014 in the Carbon)
MISSISSIPPI
Outlet Channel State Campground, Grenada, MS (Sept 2014 in the Carbon)
MONTANA
Apgar Campground, Glacier National Park, West Glacier, MT (Aug 2013 in the Cougar)
Eagles Nest RV Resort, Polson, MT (Aug 2013 in the Cougar)
Fairmont RV Park, Anaconda, MT (Aug 2016)
Greycliff Fishing Access Site, Greycliff, MT (Aug 2014 in the Carbon) – FREE
Jellystone RV Park, Missoula, MT (Aug 2014 in the Carbon)
Lolo Hot Springs RV Park, Lolo Hot Springs, MT (April 2016 in the Cardinal)
Pete Creek Campground, Yaak, MT (Aug 2013 in the Cougar)
NEVADA
Las Vegas Thousand Trails, Las Vegas, NV (November 2016)
NEW MEXICO
American RV Resort, Albuquerque, NM (Sept 2016)
Arroyo Hondo Campground, Orilla Verde Recreation Area, Taos, NM (Sept 2016)
Balloon Fiesta Park, Albuquerque, NM (Oct 2016)
Bisti Badlands BLM Land, Farmington, NM (Oct 2016) – FREE
Enchanted Trails RV Park, Albuquerque, NM (Oct 2016)
Monte Bello RV Park, Taos, NM (Sept 2016)
Whites City RV Park, Whites City, NM (Sept 2014 in the Carbon)
OKLAHOMA
El Reno KOA, El Reno, OK (Sept 2014 in the Carbon)
OREGON
Beverly Beach State Park, Newport, OR (Oct 2013 in the Cougar, Sept 2014 & March 2016 in the Carbon)
Bullards Beach State Park, Bandon, OR (Sept 2014 in the Carbon)
Cape Lookout State Park, Tillamook, OR (Oct 2013 in the Cougar)
Central Oregon KOA, Culver, OR (June 2016 in the Cardinal)
Evergreen Aviation and Museum, McMinnville, OR (Dec 2017) – FREE
Fort Stevens State Park, Hammond, OR (Oct 2013 in the Cougar)
Harris Beach State Park, Brookings, OR (Feb 2017)
Nehalem Bay State Park, Nehalem, OR (Sept 2014 in the Carbon)
Pacific City Thousand Trails, Pacific City, OR (June 2016 in the Cardinal & Feb 2017 in the Disco)
Port of Port Orford, Port Orford, OR (Feb 2017)
Quesna County Park, Boardman, OR (Feb 2017)
South Beach State Park, Newport, OR (Oct 2013 in the Cougar)
South Jetty Thousand Trails, Florence, OR (Feb 2017)
Tumalo State Park, Bend, OR (Oct 2013 in the Cougar)
Umpqua Lighthouse State Park, Reedsport, OR (Oct 2013 in the Cougar)
Whalers Rest Thousand Trails, South Beach (Newport), OR (Feb 2017)
SOUTH DAKOTA
American Creek Campground, Chamberlain, SD (Aug 2014 in the Carbon)
Boondockers Welcome Personal Residence, Hot Springs, SD (Aug 2014 in the Carbon) – FREE
TENNESSEE
North Nashville KOA (Aug 2014 in the Carbon)
TEXAS
Amarillo Ranch RV Resort, Amarillo, TX (June 2018)
Palo Duro Canyon State Park, Canyon, TX (Sept 2014 in the Carbon)
Pioneer Park, Wellington, TX (May/June 2018)
UTAH
Dinosaur National Monument, Vernal, UT (August 2016)
WASHINGTON
Avery Recreation Area, Lyle, WA (March 2016 in the Carbon) – FREE
Deception Pass State Park, Gig Harbor, WA (July 2016 in the Carbon)
Gifford Campground, Lake Roosevelt National Recreation Area, Gifford, WA (March & April 2014 in the Carbon and May 2016 in the Cardinal)
Hells Canyon Resort, Clarkston, WA (April 2014 in the Carbon)
Highway 101 RV Park, Forks, WA (June 2016 in the Cardinal)
Jerry's Landing, Elk, WA (Sept 2013 in the Cougar)
John Day Dam, Goldendale, WA (March 2016 in the Carbon) – FREE
Kenanna RV Resort, Grayland, WA (June 2016 in the Cardinal)
LaConner Thousand Trails, LaConner, WA (July 2016 in the Cardinal)
Little Diamond Thousand Trails, Newport, WA (July 2016)
Long Beach Thousand Trails, Seaview, WA (June 2016 in the Cardinal)
Maryshill State Park, Goldendale, WA (Sept 2014 in the Carbon)
Oceana Thousand Trails, Ocean City, WA (June 2016 in the Cardinal)
Riverbend RV Resort, Twisp, WA (July 2016 in the Cardinal)
RV Resort Four Seasons, Walla Walla, WA (April 2014 in the Carbon)
South Beach Campground, Olympic National Park (June 2016 in the Cardinal)
WISCONSIN
Devils Lake State Park, Baraboo, WI (Aug 2014 in the Carbon)
WYOMING
Boondockers Welcome Personal Residence, Pinedale, WY (Aug 2016) – FREE
Devil's Tower National Monument, Devils Tower, WY (Aug 2014 in the Carbon)
Flaming Gorge Recreation Area, Green River, WY (Aug 2016) – FREE
Grayrocks Reservoir, Wheatland, WY (July 2018) FREE
Gros Ventre Campground, Grand Teton National Park, Jackson, WY (Aug 2016)
————————————————————————————————–
ALBERTA, CANADA
The Crossing Resort, Saskatchewan Crossing, AB (May 2017) – FREE
Columbia Icefields Parkway Visitor Centre, Jasper National Park, AB (May 2017)
Pocahontas Campground, Jasper National Park, AB (May 2017)
BRITISH COLUMBIA, CANADA
Home Hardware Store, Cranbrook, BC (May 2017) – FREE
Mile Post 0, Dawson Creek, BC (May 2017)
Buckinghorse River Lodge, Pink Mountain, BC (May 2017) – FREE
Laird River Provincial Park, Laird River, BC (May 2017)
French Creek Recreation Site, Dease Lake, BC (Sept 2017) – FREE
Willow Creek Forest Rd MP 353, Cassair Highway, BC (Sept 2017) – FREE
Meziadin Provincial Park, Meziadin Junction, BC (Sept 2017)
Burns Lake Rotary Park, Burns Lake, BC (Sept 2017) – FREE
Walmart, Williams Lake, BC (Sept 2017) – FREE
Boundary Falls Provincial Park, Midway, BC (Sept 2017)
NORTHWEST TERRITORIES, CANADA
Hay Lake Recreation Area, Fort Laird, NWT (May 2017) – FREE
YUKON, CANADA
Walmart, Whitehorse, YK (May 2017) – FREE
Pelly Crossing Campground, Pelly Crossing, YK (May 2017) – FREE
Yukon River Government Campground, Dawson City, YK (May 2017)
Congdon Creek Government Campground, Destruction Bay, YK (Sept 2017)
Takhini Hot Springs Campground, Whitehorse, YK (Sept 2017)