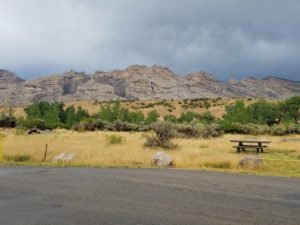 We begin this weeks recap in Dinosaur National Monument on the border of Utah and Colorado.  We landed on a raining Saturday afternoon of Labor Day weekend due to bad weather north in the Flaming Gorge Rec Area.  The storm moving into the Vernal Utah valley was quite strong and intense and we barely got situated before the rain and thunder hit camp.  We had lightening virtually around us everywhere and had 2 strikes over the evening that were in the campground and within 200 yards of our site.  Needless to say I (Stacey) am deathly afraid of thunderstorms and I tried to sit outside under the awning with Gary to watch the storm but that lasted only about 1 minute. The storm was so bad I decided to head to bed before 9pm and cover my head in my blankets to drown out the storm.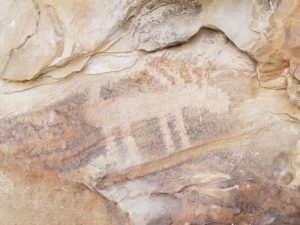 The next day we awoke to fairly blue skies so we set to explore the park.  Our first stop was down Cub Creek Road to check out the petroglyphs and Josie Morris' Cabin.  The petroglyphs  were carved into the cliffs in several areas of the Park by the Fremont People approximately 1,000 years ago. Truly amazing to view and even more amazing that they still exist today. Next down the road was Josie Morris' cabin who was a single woman divorcee who homesteaded the area and lived in her small cabin up into her 90's where she raised her pigs in the canyons above her homestead. After taking a 1.5 mile hike back into Hog Canyon a thunderstorm moved into the area so we made our way back to the truck and then headed over to the Quarry Visitor Center where we took the shuttle up to the Quarry Exhibit Hall where hundreds of dinosaur fossils have been unearthed. Over 100 dinosaurs have been found in the quarry with hundreds of bones frozen in time in the bedrock.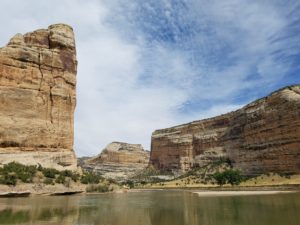 Monday we decided to explore the Colorado side of the park and headed to Dinosaur, Colorado and entered the park from the Canyon Visitor Center.  This side of the park is known for its canyons and boy were we in for some spectacular scenery.  We started by driving up the Harpers Corner Road to the Echo Park Road junction which leads down into the canyon floor.  Be aware not any vehicle can make this trek, 4×4 only, and it is only passible if the roads are dry.  As we headed down into the canyon I just held on to the door of the truck because the grade down was INSANE!!! At the bottom we drive through Sand Canyon with amazing sandstone walls towering over us on each side.  At the exit of the canyon we turned north towards Echo Park where some more petroglyphs greeted us as well as a cave and steamboat rock where the Yampa River runs into the Green River.  While in Echo Park we met a couple of rafters who were on day 3 of 5 floating the Green River through the canyon.  It was fun to talk to them about their adventure.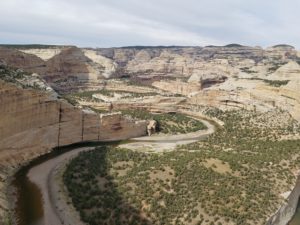 After Echo Park we headed back up to the main road and we had a decision to make… climb back up and out of the canyon or turn East for 48 mile on dirt to the rest of the canyon from the Yampa Bench Road.  We chose the latter and boy was it amazing.  We stopped at several overlooks and were amazed at how the Yampa over the eons have carved out the canyons in the area.  Our favorite lookouts were Castle Park and Harding Hole.  We soon left the canyon rim and were climbing over the mountains and headed back to US Hwy 40 via Elk Springs, CO.  All in all a perfect day in Dinosaur.  Our truck was COVERED in red dirt and Gary was proud of this achievement.  I just kept think how much a pain it would be to de-dirt the truck. Gary didn't care and therefore I told him it would all be on him to clean it. Hahaha lets just say it cost $35 in a coin operated car wash to clean up his mess.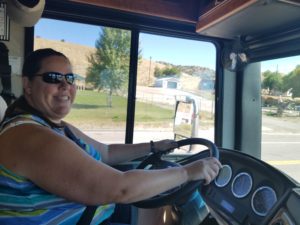 Tuesday was moving day again and we decided to drive to Steamboat Springs and stay at a local KOA so we could recharge the batteries, dump tanks, do some laundry and refill our freshwater since we had not plugged in for over 11 days now.  As we left the National Park and headed back out on US Hwy 40 we came across the Utah/Colorado State line.  Of course we had to stop and take a picture and as we pulled into the pull out Gary said "I think you should take the wheel today".  WHAT???? Me drive???? Oh no… we're going to die.  For our travels the day before we knew the 1st 20 miles or so were pretty flat and easy so my confidence wasn't completely in the toilet.  I mean hey, I've driven a 20ft box truck before when I worked for Thrifty Car Rental, whats 18 more feet plus a truck? Okay I've got this.  So I slowly climb behind the drivers wheel and Gary gives me great instruction as we start out on the road driven by me.  Soon I was up to speed and had the cruise set.  I was bound and determined to get us all the way to Steamboat Springs and I did it.  When I got out at the KOA I was shaking like a leaf but I did it! Gary thank goodness parked us into our spot and I had time to decompress my achievement and yes I bragged to just about everyone that I was the Captain that day.  I have a new profound respect for driving a 38ft home on wheels down the highway at 65mph while towing your truck behind you as well with your loved ones and furbabies inside.  I think every day since I have told Gary I am glad he is driving today. =)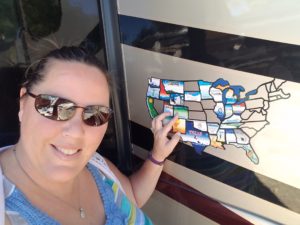 Steamboat was a cute town but we didn't do much but grab some groceries, beer and some grub at a local micro brewery.  We were fortunate enough that when we were in the RV Park a glass guy was there fixing another motorhomes windshield and since we had picked up a rock chip leaving Jackson Hole we got that repaired for $25. So convenient.  On Wednesday we headed out with Granby, CO as our destination as we had a dinner date with one of Gary's childhood friends Brian who lives in Tabernash, CO.  We decided to check on a National Forest Campground at the Arapaho National Recreation Area called Sunset Point right on the shore of Lake Granby.  Our site was nestled in the trees just above the lake and was perfect for our 2 days in the area.  Unfortunately we were hardly home while parked here but it was perfect to easily visit everything in the area.  That evening we went and had dinner in Winter Park with Brian.  After dinner we went back to Brian's where he helped us plan out our next week of adventures.  Who's better to know where to go and what to see than a local.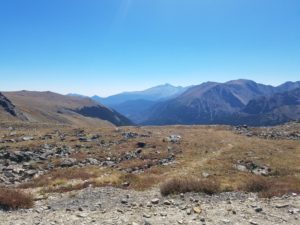 The following morning we got up and headed out on another great truck hike. Todays destination… Rocky Mountain National Park. We took the Trail Road up and over the National Park and up to the highest point at 12,183ft. I (Stacey) was fighting a very bad migraine and the altitude was affecting me rather badly so we didn't stay long.  We continued on to Estes Park just on the East side of the park at around 7000ft.  It was a cute mountain town and we found a great place that served beer and food and had an outdoor lunch with the pups with us.  After eating we headed back down the East side of the mountain down into Denver and I called a good friend of mine Clara who lives in Aurora and we met up for dinner in Thornton.  It was a great visit to see her and so glad she could come out and meet us for drinks and dinner.  After dinner we headed home through Denver via I-70.  It took us a while dealing with traffic and road closures which made for a very long day.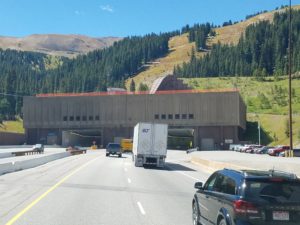 On Friday it was time to head out again and on suggestion from our friend Brian we decided to check out the Crystal River Valley south of Glenwood Springs.  We traversed the pass out of Winter Park down to I-70 and then survived the semi trailer traffic on the Interstate. Wow was that insane.  Gary had wanted to take I-70 to say we have driven the tallest Interstate in the US and we did! At the top of Vail Pass (10,666ft) we entered the Eisenhower Tunnel and drove thru the mountain. AMAZING and scary at the same time.  The drive along I-70 was very scenic and we saw some pretty famous ski resorts like Breckenridge and Vail. Once in Glenwood Canyon we were right above the Colorado
River and the scenery was just unreal.  Then we headed south towards Carbondale and then headed down Hwy 133 towards Redstone.  It was a long day (over 200 miles at this point) and we just needed to find a camp site soon.  Luckily around a bend we found the Redstone Campground and we decided to call this home for the weekend.  According to the host there was plenty to do and see so we paid for 3 nights and decided to setup camp and relax.  Our campground was located in a steep mountain valley with towering canyon walls on each side of us with the Crystal River running only a 100 yards away from our site.  We knew we found a good home for the next several days.
We have now been on the road for 3 weeks and have driven a total of 1442 miles.  Total fuel costs for the Disco is up to $519.95.  We've had a $25 repair to fix a rock chip and have paid $475.58 in camping fees, averaging $19.81 a night.  We also have now visited 3 National Parks, 1 National Monument, and 2 National Recreation Areas.  Colorado is amazing and every direction we look we see beauty.  Cant wait to share our next weeks adventures with you as we might have surpassed the Teton's as our favorite place on Earth. Stay tuned for more to come.
Until then, a hui hou.
Gary, Stacey, Spirit and Sofi