IT'S OFFICIAL: YOUTUBERS PAU HANA TRAVELS ARE NOW A PART OF THE RV NOMADS MOVIE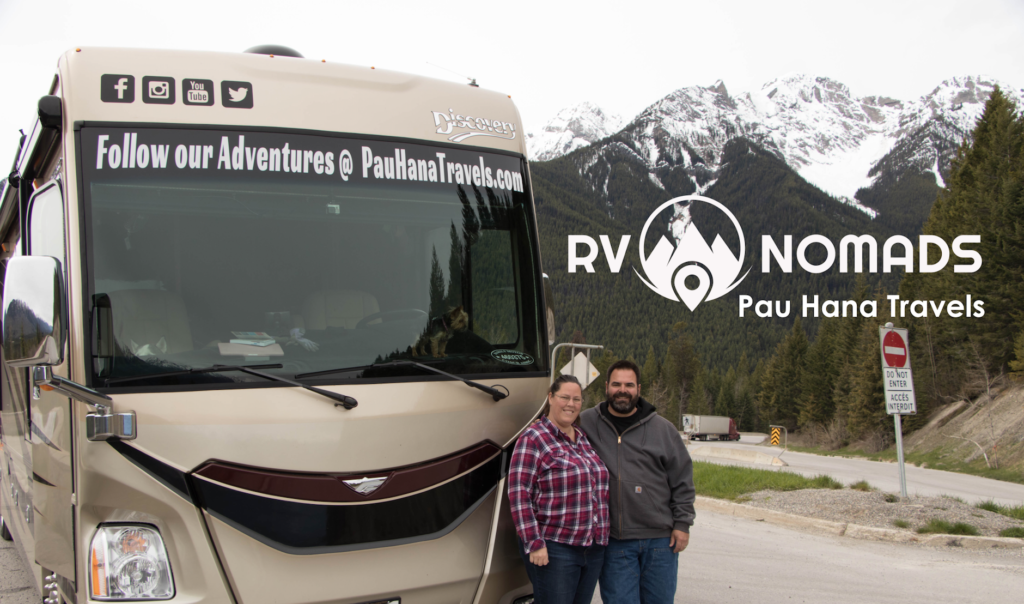 ALASKA EXPLORING, DIESEL PUSHING, ADVENTURE SEEKING YOUTUBE RVER COUPLE LATEST TO JOIN THE RV NOMADS MOTION PICTURE CAST
FEBRUARY 27, 2018
FOR IMMEDIATE RELEASE
CONTACT: Julie Bennett – Director of PR & Communications
EMAIL: thebennetts@rvlove.com
LAS VEGAS, NV – The RV Nomads film project's story is expanding by ten minutes in the timeline to accommodate another incredible story of full time RV nomadism. RV Nomads, a feature length film scheduled for a premiere in October of 2018, today announced the addition of Gary and Stacey Quimby from the YouTube channel Pau Hana Travels . Pau Hana Travels will join fellow YouTubers RVLove, Drivin' and Vibin', Less Junk < More Journey, Hebard's Travels, Mortons On The Move, Chickerys Travels and other influential full timers as the epic story of the RV Nomads is told through film in 2018.
"Over the past six months we've become very good friends with our cast. We feel like family when we're all together and the synergies naturally created when we're working on this project are second to none," said the film's producer Eric Odom. "We spent a good deal of time with Gary and Stacey in Quartzsite and it was very clear from day one that these two had an incredible story to tell. They fit right in with our tribe of full time travelers and they have a unique angle in that they've explored Alaska and are preparing to do it again next year."
The studio is preparing multiple scenes that depict some of the more extreme travel that can be done as a full time RV Nomad and will use the Pau Hana story to expand on this portion of the tale. In addition to the Alaska story that will come forward through Gary and Stacey, the couple live in a diesel pusher Class A recreational vehicle, a type of vehicle that until now was not being depicted in the film. They bring a unique storyline to the overall narratives that drive the film's plot.
"We choose to live the nomadic life because we want to see our country and our continent while we are still young and able. Traveling by RV gives us the opportunity to see and do amazing things that most people just read about in books or magazines," said Gary Quimby. He went on to say that "We are the third generation of nomads on both sides of our family tree and traveling is in our blood. In 2010, Stacey lost her father at age 60 and we learned the hard way that life can be cut short at any moment so we choose to live our life as if there is no tomorrow."
Alaska travel vlogging is a specialty of the Pau Hana Travels YouTube channel. Stacey said that "More recently with our summer of 2017 spent Rving to Alaska our channel has focused on the Alaskan experience and de-mythifying that Rving to Alaska is not as difficult or expensive as it seems. We feel Alaska has become our niche in the industry and we look forward to returning in 2019 to bring more of Alaska to our viewers."
The film's story will take several scenes to discuss how RV life empowers individuals to explore the world in ways only flashy TV ads make seem possible. "We're thrilled to be able to integrate the possibility of extraordinary Alaska travel into the film's primary narrative," added Odom.
"Gary and I are excited to share our love of traveling and Alaska thru this new network. We feel ENTV is a successful platform where viewers will have a more intimate look into the lives of the nomads featured. For Pau Hana Travels this means giving the audience a look inside Alaska from the rvers perspective. From the midnight sun, to Copper River salmon runs, and epic scenery in every direction the viewer will be immersed in Alaska's beauty and charm," said Stacey.
Pau Hana Travels was born from their ties to the Hawaiian Islands. Stacey lived on the island of Kauai for three years and they were married there in 2012. Pau Hana translates to "Done with Work", "Quitting TIme" or "Happy Hour". The Quimby couple feels blessed to be "done with work" and retired young to enjoy this lifestyle. With Pau Hana Travels they share the "aloha" (the love) of their travels with their viewers in hopes to give guidance, assistance, and education to those who are interested in the lifestyle.
Gary and Stacey will take on a full cast member role in production this summer.
###
To learn more about RV Nomads the Movie or Epic Nomad TV visit: https://www.epicnomadtv.com/2018/02/27/official-youtubers-pau-hana-travels-now-part-rv-nomads-movie/
974 total views, 1 views today