Memorial Weekend 2016 – Lake Roosevelt National Recreation Area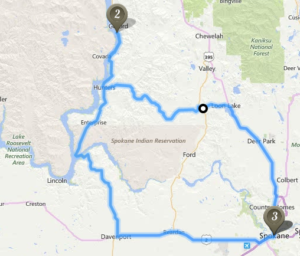 Our second flight in the Cardinal was over the 2016 Memorial Holiday.  We packed the trailer up on Tuesday, May 24th and headed out early in hopes to get our favorite spot at the Gifford Campground on Lake Roosevelt which is apart of the Lake Roosevelt National Recreation Area.  It was a blustery rainy day and motivation wasn't quite there but the short hour and half away from home base made the 3pm departure manageable.  When we pulled in we were surprised to find only 1 other RV in the entire campground… an no doubt IN OUR FAVORITE SPOT.  So we did the circle thing to find a new home for the week.  Because we are 42ft long we dont have many choices but spot #19 was great!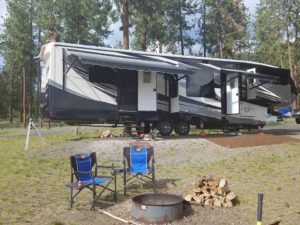 We were parked right in front of the boat docks (which were high and dry since the lake is still filling and wont be to full pool until the beginning of July) and had a great southern view of the lake were we could watch the Gifford Ferry go back and forth all day between Gifford and Inchilium. Our site was $18 a night which I feel is a little steep for dry camping but its summer rates (during the winter it's $9 a night) but that is average for a National Park Service ran facility.  This park stays pretty quiet with a good mix of RVers and tenters and lots of fisherman use this campground.  Throughout the entire week there it never got super busy and everyone had a good choice of spots to pick from.  Of course on Friday morning with the park almost empty a group of tenters decided to camp in the spot directly across from us.  I don't blame them as the plumbed restrooms were right across the way but I felt bad for them because they had to listen to all us RVers and our generators.
Speaking of generators this trip put us to the test as it was 7 days of true dry camping. No power in site and well we haven't upgraded to solar yet.  Lets just say that is high on the priority list now as we went through 3 10gal (40lb) bottles of LP during our stay. YIKES!!! Yes our wonderful little hour meter on the genny says we ran our generator over 30hrs this past week (averaging 1 gallon an hour)!  With the amount of dry camping we like to do solar is a must.  We are currently looking for 600 watts of solar with a 2k or 3k converter/inverter to power our entire house.  Our next trip is planned for July so we have a month to hopefully get this necessary upgrade complete. Anyway back to our fun.
Wednesday and Thursday were pretty laid back and quiet.  We did some time lapse videos with the GoPro and pretty much sat around and just enjoyed the beauty around us.  We are not use to staying put for any amount of time and it took a couple of days for us to just relax.  In fact this trip was our longest in 1 campsite… six days.  Normally we are always on the move so this worked for us as our big trip this fall we have purposely planned to stay in most spots 4 to 6 days.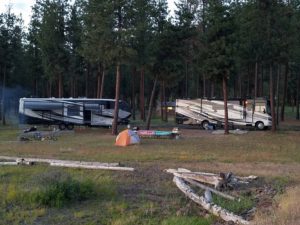 On Friday night our good friends Jeff and Julie showed up with their kids for the weekend in their 40ft Georgetown XL and the spot next to us was perfect because both of our rigs looked out onto our campsite and the lake.   Saturday we all just sat around and when the weather cooperated the guys took out the wave runners that Jeff and Julie brought up.  They had fun teaching the kids how to ride and from then on it was hard for the guys to get time on the machines.  Saturday night we had a big bonfire and our neighbors 2 spots down, Vicky and Ricky, joined us for the evening.  It was a perfect evening with great friends. Sunday most of the campground cleared out and we had some breaks in the weather to enjoy the wave runners again.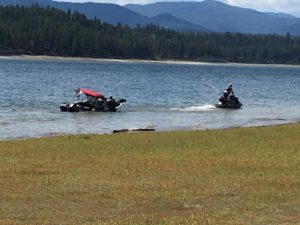 Of all things to happen our new friend Ricky had a little mishap with his fishing boat and due to some high winds and waves his boat capsized. Luckily the kids and the guys were able to help them get back to shore as well as get the boat right side up and then I ran and got their boat trailer with our truck.  They lost some fishing gear but most importantly no one was killed or hurt and we were able to recover the boat. I guess I will never forget that one!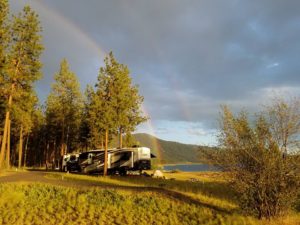 Finally on Monday it was time to head back home.  We originally planned to stay until Tuesday but with no propane (yes we ran out) and full tanks it was time to go home.  We packed up camp and said our goodbyes.  All in all however it was an amazing week spent doing nothing. When we got home it was fun to find a Boondocker from Boondockers Welcome camping down in our lower lot (yes it was pre-arranged) but had we not come home a day early we would have never met Sarah and Chris, Kona and Merlin.
In all this trip added 173.5 miles to our flight log.  Our next flight should be in July and hopefully with some new solar panels! Until our next adventure… Aloha!