Greetings from Anaconda, MT
Pau Hana Travels Navigators Log Friday, August 19th, 2016
Spokane, WA to Anaconda, MT (325 miles)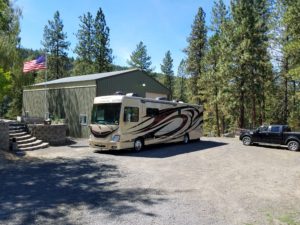 Today was our first day of a 3-month+ trip that we have had planned since March of this year. We finally finished everything we needed to do at the homebase and got the motorhome packed around 1:30pm and by 2pm we officially closed the gate behind us and hit the road for a big push to Big Sky Country. Destination wasn't completely known but our hope was to find someplace near the Fairmont Hot Springs just outside Anaconda/Butte, Montana.
As we started to roll East down I-90 we called the Fairmont RV Park just outside the hot springs for availability and we were in luck, getting one of the last full hookups for the night. The drive was non-eventful and peaceful. We were surprised how quiet the ride was once all our stuff was packed into the coach. However if you ask Spirit our Husky how quiet it was she'd probably tell you different. This was all new to all of us as this was our first big ride in the new 2016 Fleetwood Discovery Class A diesel pusher. Prior to now we have always towed our homes in either tow behind trailers or 5th wheels the last being a 43' Cardinal forward livingroom 5th wheel. Being inside the motorhome takes a little getting use to because you hear everything including the freezer door popping open on every right hand curve.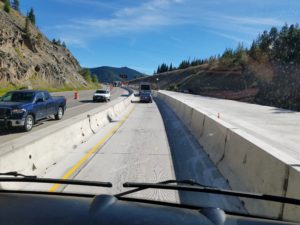 As we rolled thru Idaho I decided to leave my post as navigator and use the bathroom. You've always got to have a 1st and well I had a great view of Fernan Lake in the bathroom as we whizzed by at 65 mph. When we hit Lookout Pass the road narrowed due to construction and when I mean narrowed it was tight which is a bit scary when you are 8.5 feet wide. Gary drove it like a champ and you'd never know we were new at this type of driving. I am very thankful we decided to leave during the day instead of at night as I wouldn't want to drive that stretch in the dark.
When we crossed into Montana the road construction didn't stop for another 30 or so miles so it was slow going as it was one lane traffic and we were held up by larger vehicles ahead of us. Just before St Regis the construction ended and the road improved with traffic flow. I just love driving thru this part of Montana as I went to college in Missoula and drove this route regularly to visit home. As we passed through Missoula I was kind of sad we didn't stop but we had a goal to make it to camp by sunset.
About 40 miles East of Missoula we came across a HUGE herd of elk. Such a majestic animal and even more majestic when you see them in the hundreds. I wish I could have taken a picture but they were just too far away to pick up in a picture. But regardless to see the hundreds of elk feeding in the fields just screamed Montana.
We arrived right on-time according to our new GPS navigation system (a 5" Garmin DriveLuxe 50LMTHD) and found our space (#42) easily. I might say this spot was a little difficult to pull into due to its location on a corner. We are just glad that our neighbors behind us hadn't arrived yet as we had to use it as a pull-thru to park. Getting out should be interesting but that isn't something we will have to worry about until Sunday when we depart.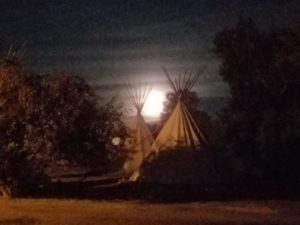 The rest of the evening was spent cooking a BBQ chicken dinner and watching some pre-season football on the Dish Network Satellite we have. Due to the time change we decided to try and go to bed early even though it was still 11pm. Upon getting ready to retire guess who accidently blew the air horn…. Oops! Gary somehow ALWAYS hits the horn on inopportune times. We slept well and what was even better… the temperature… a balmy 43 degrees. We haven't seen those type of temps since the Washington Coast in June.
Saturday morning we slept in until we got a text notification that the alarm system was set off back home at the home base. It was quickly followed up by another text from our daughter telling us not to worry that the alarm was her. Silly girl almost always sets off the alarm. I guess she hadn't got her morning coffee in yet. The morning was spent just relaxing, doing a couple of loads of laundry (yes I brought dirty laundry) and Gary installing our Tire Minders (a tire pressure monitoring system to warn us of tire issues when we are traveling.)
Its now 2pm as I write this blog. Plan is to go to the pool over at the Fairmont Hot Springs Resort for a couple hours and then we will come home and get ready to go hit the Tri-County Fair and Rodeo in Deer Lodge, Montana. They are having a beer, wine tasting plus rodeo tickets for $30… sounds like a perfect evening for the middle of Montana! Brews, broncos, and cowboys… the perfect trifecta… just replace cowboys for cowgirls for the men. 😉
Tomorrow, Sunday August 21st, the plan is to leave here and go visit the Lewis and Clark Caverns on our way down to Island Park, Idaho where we have reservations at the Buffalo Campground for a week while we visit Yellowstone National Park and Grand Teton National Park. I have no idea how well we will have cellular reception once in the Yellowstone area so will post when I can.
If your on Instagram and Facebook don't forget to follow and like us @PauHanaTravels. A hui hou! ~ Stacey & Gary