Our 3rd flight in the Cardinal almost sounds like a movie as it involves a wedding and a funeral. The trip was completely unexpected and very unplanned. It all started when our sister-in-law needed a ride to Bend, Oregon to meet up with our niece for a wedding. We offered to take her since we had a mobile "hotel" and we could all stay together in a campground together to save on hotel costs.
Friday, June 17th, 2016 to Sunday June 19th – Culver, OR – Central Oregon KOA – $55/night
So on Friday morning the 3 of us piled into the Ford with the Cardinal in tow and made the 300 mile trek down to Redmond, Oregon and stayed at the Redmond/Central Oregon KOA. Later that evening our nephew, niece and brother joined us as we all settled in for the weekend. Thank goodness for the forward living room, in all both couches were occupied and a queen size air mattress filled the floor space (I wish I had gotten a picture of them all). For 2 nights the Cardinal slept 6 comfortably.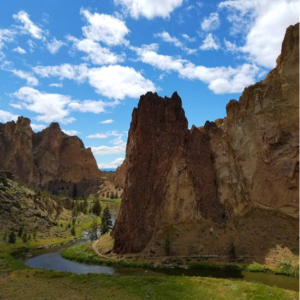 Saturday while our niece was at the wedding the 5 of us explored the area and ended up going to Smith Rock State Park, a popular rock climbing site in central Oregon. The day was a little blustery but by the time we got to the State Park the weather cooperated and we had a beautiful hike down to the Crooked River Valley below the towering walls of Smith Rock. After our hike we headed into town and ate at Abby's Pizza and then did a little Father's Day shopping. Sunday morning arrived and it was time to part ways and say goodbye.
Somehow we managed to keep our nephew as the whole family would meet up again later in the week in Tacoma Washington for our Grandmother's funeral. It was nice to have him with us for a couple more days as he's 14 and at that age teenagers are very helpful with RV chores. We left the Bend area and headed West on Highway 20 towards the Oregon Coast. We stopped for our 1st fuel in Corvallis after over 600 miles of travel (gotta love our auxiliary fuel tank which allows us over 800 miles between fill ups.) We finally found the ocean at Newport and we headed North on Highway 101 to Pacific City to the Pacific City Thousand Trails Resort.
Sunday, June 19th & Monday June 2oth – Pacific City, OR – Pacific City Thousand Trails – No Charge (TT Member)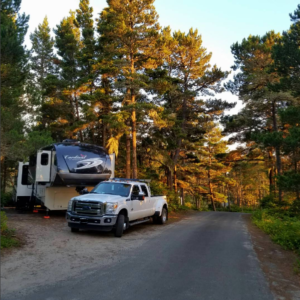 This was our first stay at a Thousand Trails Resort. The resort is old but not terrible. Very hilly which made for some scary moments with our 43 foot 5th wheel. We also have some fresh scrapes in the paint now due to some low branches. It took us 3 attempts at different campsites before we found one we could get in. We stayed in F53 high up on the hillside with an oceanview through the trees. We stayed at this Thousand Trails for 2 nights and enjoyed the Summer Solstice while in Pacific City. When we pulled in and finally got settled our good friends from high school, the Hestons, who we have camped with in the past, drove over from McMinnville to meet us for dinner. We bbq'd some steaks in camp and had a fire and roasted marshmellows over the fire. It's always nice when we can visit with friends and the Heston's are no exception. We always have a blast when we all get together.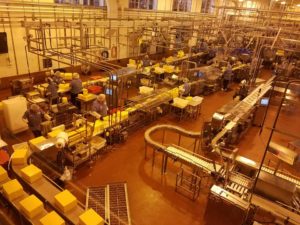 Monday morning the 3 of us drove into the town of Tillamook and toured the Tillamook Cheese Factory as well as the Tillamook Air Museum. The cheese factory is one of our favorite tourist traps to visit and it is well worth it. Today was the first time we have been in on a weekday so we actually got to see the assembly line in action. We watched huge 40+lb blocks of cheese get cut down into smaller blocks that you would find in a grocery store. The process included the cutting of the cheese and the packaging and sealing of the cheese. After touring the plant from the upstairs viewing windows we then endulged in some single scoop ice cream waffle cones. Well worth the money. Then we headed downstairs and did a little cheese shopping after walking thru the sample table of approximately 8 different cheeses.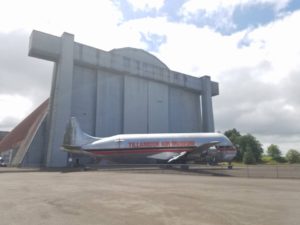 After the Cheese Factory we headed to the Tillamook Air Field where once a fleet of blimps patrolled the Pacific Coastline looking for German U-Boats. Today it is a museum housing several types of aircraft including a mini-guppy transport plane and my favorite an F-14 Tomcat fighter jet. The building itself is one of the largest wooden structures in the world. There use to be 2 identical buildings but in 1992 one burnt down. The building itself is worth a stop and visit and the planes on display inside is an added bonus.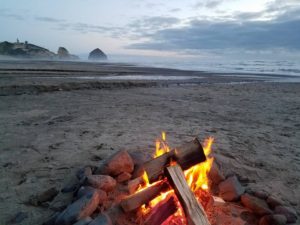 After playing tourist we drove back to Pacific City and had a great dinner at the Pelican Brewery. Because it was June 21st, the longest day of the year and the 1st day of summer, we decided to celebrate the Solstice by driving our truck down on the beach in front of the Resort and we built a bonfire and waited for the 10pm sunset. Unfortunately the clouds had other plans so we didn't get to see the sun dip into the ocean but regardless we had a wonderful evening.
Tuesday, June 21, 2016 – Seaview, WA – Long Beach Thousand Trails – No Charge (TT Member)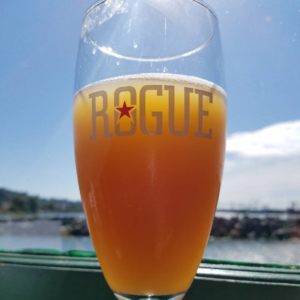 Tuesday was moving day and we had reservations at the Long Beach Thousand Trails in Seaview, WA. It was a short 100 mile drive up Hwy 101. We arrived pretty early got setup and then we unhooked and headed back to Astoria, Oregon for lunch/dinner at our favorite brewery, Rogue on Pier 39. Luckily throughout Oregon there are several Rogue Breweries where we can stop and get stocked up on our favorite brews. While at the brewery in Astoria we had a great lunch. Gary was able to purchase a mixed case of beer and I got a case of small batch soda. I am allergic to alcohol so I enjoy their small batch soda. My favorite is the Cucumber Citrus and Root Beer. This visit however they had a Sour beer called the Paradise Pucker made with POG juice. I love POG juice so I took one for the team and ordered one up and boy was it good. But I also ballooned up almost immediately with my allergy but it was so worth it! I'd do it again for another glass it was good. After eating we walked over to where the sea lions hang out on the neighboring pier and watched them for a bit being lazy sunning themselves on the docks. The rest of the day was spent being lazy at the trailer and just relaxing.
Wednesday, June 22 & Thursday June 23rd, 2016 – Lacey WA – Washington Land Yacht Harbor RV Resort $24/night (with Escapees Discount)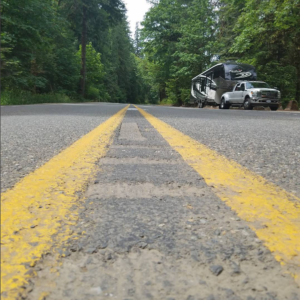 Wednesday was another travel day to Lacey, Washington. We were to meetup with Gary's parents at the Washington Land Yacht Harbor RV Resort with their 5th wheel later that day for a funeral for our Grandmother that was held on Thursday. We left Long Beach at 10:30am and stopped at Rainbow Falls State Park on Hwy 6 for lunch and arrived in Lacey around 3:30pm. Mom and Dad were not too far behind us and pulled in around 4pm. Our brother and sister-in-law arrived around 6pm as did our other brother and nephew. Between the two 5th wheels we had 9 of us sleeping over (5 in our rig and 4 in Mom and Dads). All day Thursday was devoted to saying goodbye to Grandma and attending her memorial service and graveyard burial and then we had dinner with the rest of our family who lives in the area.
Friday morning everyone said goodbye and most headed home except for Mom and Dad and us as we all headed back to the Washington Coast… specifically Grayland, Washington and the Olympic Peninsula.
Friday, June 24th & Saturday June 25th – Grayland, WA – Kenanna RV Park – $35/night with Good Sams Discount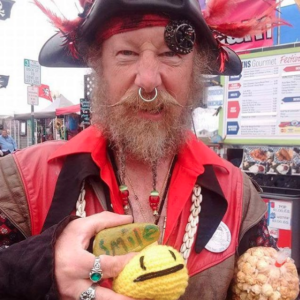 In Grayland we stayed at the Kenanna RV Park. Its a nice open grassy campground with clean restrooms and a nice playground for littles. We were in spots 40 & 41 so we could pull opposite of one another and have our doors face each other in the middle. After getting settled in we drove over 3 miles on the beach and then headed up to Westport for dinner. This weekend was the Rusty Scupper's Pirate Daze Festival so lots of activities were happening with vendors, food trucks, bands, and other pirate activities. The Lady Washington Tall Ship was also in port giving tours and sightseeing sailing tours. We had a great dinner at Bennents Fish Shack with lots of great seafood. All our dinners were well received and devoured.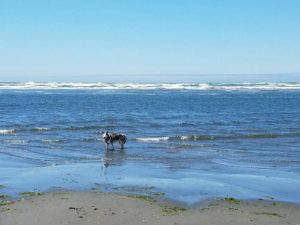 Saturday we decided to take the dogs back down to the beach and try to see how Spirit would do off-leash. Lets just say thats probably the first and last of being off-leash while on the road. While she loved it, she wouldn't come back to us when we called her. It took her going to a stranger wanting love that we were able to grab her. After our beach time we headed back to the Pirate Festival and walked all the festival. Both dogs got TONS of attention. We had some great grub at the festival as well as a few snacks and we bought some pirate t-shirts. After the festival we went and had dinner at our parents friends place. They own an adorable little resort called The Ocean Spray Beach Resort in Grayland. In all they have 10 cottages for rent. Each cottage has a different theme and sleep anywhere from 2 to 6 people. Rooms are very well appointed and are reasonably priced between $110-$150 a night. To learn more be sure to visit their website at www.oceanspraybeachresort.com. We highly recommend them if you are travelling and need a place to stay in the Grayland/Westport area. For dinner Diane prepared and AMAZING crab feast. We enjoyed the evening just relaxing and catching up before we have to leave in the morning as we plan to continue our trip up the coastline around the Olympic Peninsula.
2,059 total views, 1 views today